A delicious tropical cocktail for the summer months and perfect for Pride! This cocktail is not difficult to make; you don't need a cocktail set and can serve it in a long drink glass or a hurricane glass.
Pouring in the top layer is the trickiest thing, but with this paradise cocktail with blue curacao, you can really score points.
With our rainbow recipes we try to make the world a little more colorful and accepting from the kitchen! Are you helping? Share your creations through #rainbowrecipes.
Cocktail With Malibu And Blue Curacao
This island cocktail is made with grenadine syrup, pineapple juice, malibu, blue curacao, a little water and lots of ice. You can also use orange juice instead of pineapple juice and vodka instead of malibu, but then the order becomes a little different!
How To Make This Paradise Cocktail?
To make the colors of the rainbow, we first pour a part grenadine syrup into a 16 oz / 400 ml glass. Then fill the glass with ice cubes or crushed ice.
In a separate cup, you mix 4 oz / 160 ml pineapple juice with 2 oz / 80 ml Malibu. This mixture is poured over the glass with syrup and ice.
To create an orange layer, you can stir for a moment. You'll see that the red layer mixes with the yellow and then you get orange! The glass already seems full, but we promise you: the last layer still fits.
The last layer is the hardest. You mix 1 oz / 40 ml water with ½ oz / 20 ml blue curacao (if you don't, the blue layer will sink). You pour this very carefully (use a spoon) over the yellow layer.
You will see that blue and yellow mix to green and the top layer remains beautifully blue. Voilà, your rainbow cocktail is ready! Serve with a lemon/lime slice or orange twist to finish it off.
Do you use orange juice and vodka? Then you pour the orange juice over the grenadine and mix the vodka with blue curacao for the top layer. So you don't use water in the recipe.
(DIY) Cocktail Shaker
For this recipe you don't really need a cocktail set. It is useful to use a jigger to measure your ingredients.
We have an EU standard 20/40 ml jigger and used the ml-measurements, but you can use a 1 / 2 oz jigger and stick to the oz measurements (see recipe card below). In ounces, it will be a smaller drink.
Don't have a jigger? Then you can also use a shot glass (in Europe standard shot glasses measure 40 ml, in the USA they measure 2 oz).
Rainbow Recipes
Check out more rainbow recipes on our website! We create 30 recipes, a recipe for every day of Pride Month. Together, we can make the world more colorful and accepting, from the kitchen. Help and share your creations through #rainbowrecipes!
Yield: 1
Rainbow Paradise Cocktail Recipe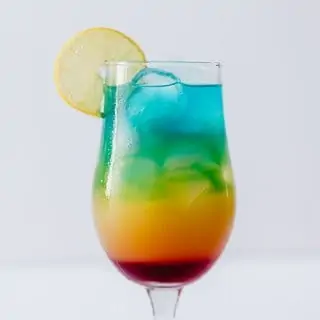 A fabulous rainbow cocktail with a tropical twist!
You can use a shot glass or jigger to measure the ingredients.
A shot glass usually measures 2 oz or in Europe 40 ml. A jigger usually measures 1 oz + 2 oz or in Europe: 20 + 40 ml.
NOTE: 1 oz is less than 20 ml, so in ounces it's a smaller drink. But otherwise it would be shitty measurements to work with.
Bereidingstijd
10 minutes
Ingredients
4 oz pineapple juice (or 160 ml)
2 oz malibu coconut rum (or 80 ml)
1 oz water (or 40 ml)
1 oz grenadine (or 40 ml)
½ oz blue curacao (or 20 ml)
ice (crushed or cubes)
Instructions
Pour grenadine syrup into a 400 ml / 16 ounce hurricane glass.
We use a jigger of 20/40 ml, but you can also use a shot glass or other size jigger and stick to the parts of the ingredients.
Fill the entire glass with ice.
Mix pineapple juice with Malibu in another cup. Pour this mixture into the glass with the grenadine syrup (stir to make the layers better and to create an orange layer).
Mix water with blue curaçao and pour gently (with a spoon) over the yellow layer and you will see that it flows nicely and creates a green layer!
Serve with a lemon slice or orange twist. Cheers!
Notes
You can also make this cocktail with orange juice and vodka!
Then the pouring order is:
Grenadine syrup (1 oz / 40 ml) + ice
Orange juice (5 oz / 200 ml)
Blue curacao (½ oz / 20 ml) + vodka (2 oz / 80 ml) (careful!)
So you do NOT use water and do NOT mix the orange juice, otherwise it will not work and the blue layer will sink.
Recommended Products
As Amazon Associates and members of other affiliate programs, we earn from qualifying purchases.
Nutrition Information
Yield
1
Serving Size
1 grams
Amount Per Serving
Calories

243
Total Fat

0g
Saturated Fat

0g
Trans Fat

0g
Unsaturated Fat

0g
Cholesterol

0mg
Sodium

13mg
Carbohydrates

46g
Fiber

0g
Sugar

36g
Protein

0g
This data was provided and calculated by Nutritionix
PIN THIS RECIPE