Vegetarian pasta pesto is one of my favorite pasta dishes. Especially in my student days, I ate the dish very often. Pasta pesto is tasty, easy to prepare and can also be cheap.
Of course, this is all about what you do in the pasta pesto and what kind of pesto you use. Pine nuts make the dish extra tasty, but also a bit more expensive.
For this vegetarian pasta pesto recipe, we use the following ingredients: penne pasta, pine nuts, cherry tomatoes, rocket/arugula, a dash of cream and Parrano cheese. And of course pesto! This could have been a jar bought in the supermarket, or homemade pesto.
Vegetarian Pesto
Please note that jars of pesto are usually not strictly vegetarian! Pesto is traditionally made with Parmesan cheese. And Parmesan cheese isn't entirely vegetarian.
Traditionally, pesto is made with Parmesan cheese. This is because there is animal rennet in Parmesan cheese. This animal rennet is removed from the stomach of a calf.
So technically, pesto is not vegetarian, but many vegetarians have no problem with rennet since it's a by-product.
Rennet, by the way, is in most cheese. Of course, you can decide whether you eat cheese with rennet or not!
Make Your Own Italian Pesto
I used to buy jars of pesto, but nowadays I often make my pesto myself. I always thought making pesto would be hard, but it's not at all. Making your own pesto is easy and super tasty.
All you have to do is mash pine nuts, cheese, garlic and basil with a hand blender or kitchen machine. And with a drizzle of olive oil, you have a delicious pesto sauce. In 5 minutes! Read the whole recipe!
If you go for convenience – and if you want to make your dish a bit cheaper – you can of course just buy a jar of pesto in the supermarket. There's nothing wrong with that.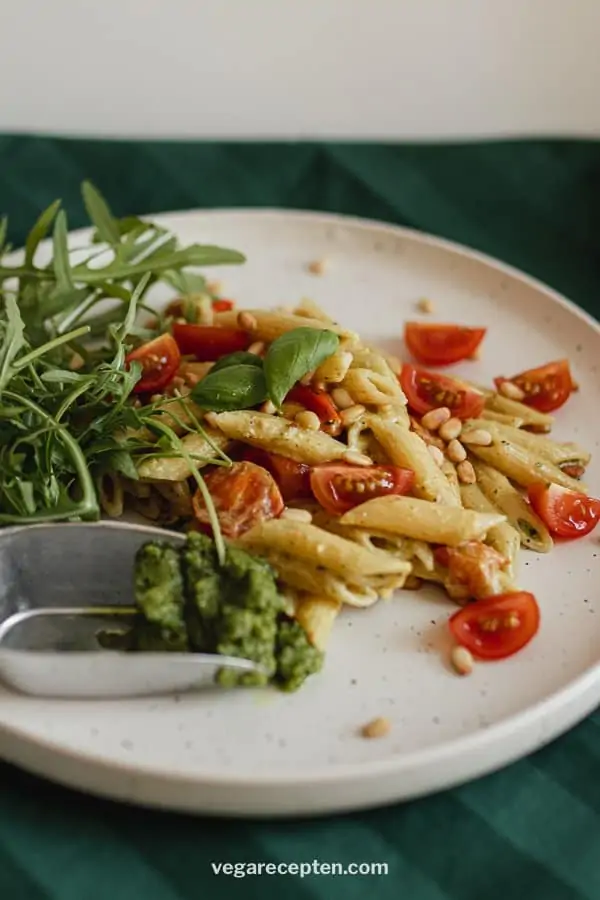 Quick and Tasty
Within 20 minutes you have a delicious meal on the table. And if you cook for a large group, pasta pesto is also perfect! This recipe is for 4 people, but you can easily double the recipe. And you bet everyone at the table is enjoying themselves.
How much pasta you cook per person depends on how much you eat! On average, someone eats 100 grams of pasta, but if you have big eaters at the table, count 125 grams per person.
Extra ingredients you can add are vegetarian chicken pieces and/or mozzarella balls, tasty as a variety! You can also vary with different types of pasta. We often use penne, spaghetti or farfalle. But fusilli is also very tasty with the pasta pesto!
Yield: 4
Vegetarian Pasta Pesto Recipe
Ready within 20 minutes and also super tasty!
Bereidingstijd
20 minutes
Ingredients
4 cups penne pasta (400 gram)
1 ⅔ cup cherry tomatoes (250 gram)
3 tbsp + 1 tsp cooking cream (50 ml)
Garnish
3 ¾ cup arugula (75 gram)
¼ cup pine nuts (30 gram)
¼ cup parrano cheese (30 gram)
olive oil
pepper
salt
Instructions
Cook the pasta according to the package. As soon as the pasta is ready, drain it.
When applicable: make the pesto yourself. See our pesto recipe how to do this best & tastiest.
In a small frying pan, roast the pine nuts. You do not have to put oil in the pan, but do not set the heat too high, the seeds can burn quickly if you do not pay attention. The pine nuts are ready in a few minutes.
Halve the cherry tomatoes and heat another skillet with olive oil. Put the halved cherry tomatoes and heat until they soften slightly.
Add the pesto and cream to the cherry tomatoes and warm the sauce while stirring. Season with salt and pepper.
Spoon the pasta through and let it warm briefly. Serve the pasta with the pine nuts, arugula and Parrano cheese. Enjoy your meal!
Recommended Products
As Amazon Associates and members of other affiliate programs, we earn from qualifying purchases.
Nutrition Information
Yield
4
Serving Size
1 grams
Amount Per Serving
Calories

332
Total Fat

14g
Saturated Fat

3g
Trans Fat

0g
Unsaturated Fat

9g
Cholesterol

9mg
Sodium

205mg
Carbohydrates

42g
Fiber

4g
Sugar

3g
Protein

11g
This data was provided and calculated by Nutritionix
PIN THIS ARTICLE